Enter the Arts
&

Crafts In August Online Show Search Contest for a chance to Win! Additionally, a special reward for every form entered….
This contest is free for anyone to enter!
Email your complete form to info@arts-craftsconference.com by Tuesday night, August 16th to enter to win two free Conference Events Passes to the 36th National Arts and Crafts Conference and Shows at the Omni Grove Park Inn! Additionally, just for sending in a complete form, you'll get access to a free Seminar from the Archives to view!
August 15th, 2022
THANK YOU!
A Big Thank You to everyone who shopped the shows, exhibitors who made themselves available to customers during the shows, attendees who attended the sessions and the Small Group Discussion leaders who spent their time talking with us…
There are so many of you to personally thank for devoting time to this event during a busy summer season. I am so thankful for your support and happy to organize this effort to keep our discussions going. A large Thank You to Bruce Johnson for being my advisor throughout the Spring and Summer and onward!
For those of you who are Arts & Crafts In August household passowners, the Video on Demand page and other pages will be available to you to watch throughout the month of August, containing all Arts & Crafts In August 2022 recordings and the curated list of archived recordings. If you missed the live sessions, but would still like to access the recordings, you can still pay the registration fee to log in and access the recordings. Please see the registration page link below if you are interested.
I'm moving my office August 15th – 16th, but will be back online August 17th with full attention focused on the 36th National Arts and Crafts Conference at the Grove Park Inn. For those who know they want to register for the annual Grove Park Inn event, you can find more information on the Registration page.
Take care and I'll be back in a few days!
The 36th National Arts and Crafts Conference
&

Shows

February 17th – 19th, 2023 – The Omni Grove Park Inn
Asheville, North Carolina
To reserve your Arts and Crafts Weekend Package (Friday/Saturday night stay at GPI) during the National Arts & Crafts Conference and Shows in February 2023:
800-438-5800 (press "1" for group reservations)

If you experience any issues while making your reservations for the conference, email us at acconferenceinfo@charter.net as soon as possible so we can help solve them.
A Slideshow of the National Arts and Crafts Conference and Shows
Never been to the Grove Park Inn?
The historic Grove Park Inn, now owned by Omni, is a perfect Arts & Crafts destination. Its interiors a tribute to the Arts and Crafts era of design, this Asheville historic hotel attracted the affluent and middle class of the early 20th Century with its reputation as a house of healing and comfort amidst the Blue Ridge Mountains. This tradition continues today as its one of a kind subterranean spa, its gorgeous sunset terrace views, and comforting natural interiors attracts visitors from all over, including many U.S. Presidents. View the video below to see Conference Director Emeritus Bruce Johnson give an Arts & Crafts tour of the iconic Grove Park Inn.
Meanwhile, please add yourself to our free weekly newsletter at www.ArtsAndCraftsCollector.com, for we also make major conference announcements there as well.
Many thanks!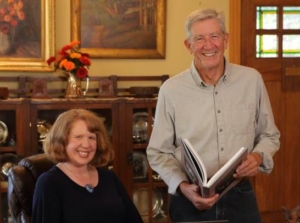 Bruce Johnson, Director Emeritus

Kate Nixon, Director of the National Arts and Crafts Conference at the Grove Park Inn and Arts & Crafts In August

Office phone: (828) 628-1915