Arts
&

Crafts In August

August 5th – 11th, 2023
online at Arts-CraftsConference.com
Presentations, discussion sessions, demonstrations, and the chance to connect this August!
For those of you who weren't able to make it to the Grove Park Inn this past February, the fun continues this August as the third annual online celebration Arts & Crafts In August returns to Arts-CraftsConference.com. Featuring presentations, Zoom sessions, demonstrations, and the ability to connect with collectors across the country, this online conference set the tone back in 2021 and has served as a fantastic resource to Arts & Crafts supporters and enthusiasts nationwide.
Stay tuned for the reveal of the schedule and early bird registration starting June 5th, 2023!
A sincere THANK YOU to everyone involved in the 2023 National Arts
&

Crafts Conference and Shows!
In order to put on an event like the National Arts and Crafts Conference and Shows, it truly takes a large community of dedicated supporters to make it work.
From the bottom of my heart, I'd like to thank first and foremost my dedicated crew who keep coming back again and again to see the people and the works we all love so much. Whether you were a show manager, a greeter, or even a first timer behind the ticket booth, thank you for your efforts during this wonderful weekend. I want to thank my advisor Bruce Johnson for his support leading up to this weekend and I am beyond thrilled that we were able to raise nearly $14,000 for the Arts & Crafts Research Fund!
I would also like to thank:
Our six speakers for their time and efforts to presenting such quality seminars. Your contributions help continue our legacy of high standards in educational seminars we bring each year.
The small group discussion leaders who take the time to lead the many sessions of the conference. I join all who attended the sessions in saying your efforts are so appreciated.
The exhibitors who make the long trip every single year to Asheville from all over the country and who withstand the crazy process of loading their wares in and out to provide the public with the best in Arts & Crafts era antiques and contemporary works AND both of our demonstrators John Post and David Van Epps for their efforts in giving daily demonstrations to our showgoers.
Those of you collectors who came as conference attendees from across the country in search of learning about the icons and works of this wonderful movement and to buy from our dedicated exhibitors.
My deepest thanks to you all.
Onward to 2024!
The 37th National Arts and Crafts Conference
&

Shows

February 16th – 18th, 2024 – The Omni Grove Park Inn
Asheville, North Carolina
A Slideshow of the National Arts and Crafts Conference and Shows
and walkthroughs of the Arts and Crafts shows
Never been to the Grove Park Inn?
The historic Grove Park Inn, now owned by Omni, is a perfect Arts & Crafts destination. Its interiors a tribute to the Arts and Crafts era of design, this Asheville historic hotel attracted the affluent and middle class of the early 20th Century with its reputation as a house of healing and comfort amidst the Blue Ridge Mountains. This tradition continues today as its one of a kind subterranean spa, its gorgeous sunset terrace views, and comforting natural interiors attracts visitors from all over, including many U.S. Presidents.
In the videos below, Bruce is your guide (along with our trusty cameraman Bill) as he walks through the 8th floor of the Vanderbilt Wing, presenting the 2022 Antiques and Contemporary Craftsfirms Shows.
A Tour of the National Arts and Crafts Shows at the Grove Park Inn
Meanwhile, please add yourself to our free weekly newsletter at www.ArtsAndCraftsCollector.com, for we also make major conference announcements there as well.
Many thanks!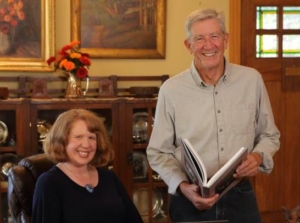 Bruce Johnson, Director Emeritus

Kate Nixon, Director of the National Arts and Crafts Conference at the Grove Park Inn and Arts & Crafts In August

Office phone: (828) 628-1915