January 30th, 2023
Authors to sign books during shows February 17th – 19th
Books have always been an important part of any Arts and Crafts collection. Whether it's for research or enjoyment, they are essential tools for anyone in the collecting world to have. During this conference weekend at the Grove Park Inn, you can look forward to not only purchasing a wide variety of books from our booksellers on the 8th floor, but getting your books signed by the authors!
A table will be located by the Turn of the Century Editions/The Parchment Press/The Gamble House Bookstore booth which will feature the following authors:
Judith Budwig and Jeffrey Preston – Redux-The Arts and Crafts Revival, 1972-2012
Jill Thomas Clark – The Arts & Crafts Furniture of J.M. Young & Sons, Camden, New York and The Indian Splint Manufacturing Company, Geneva, New York
Richard Mohr – The Splendid Disarray of Beauty-The Boys, the Tiles, the Joy of Cathedral Oaks-A Study in Arts and Crafts Community
Patricia Bartinique – Gustav Stickley-His Craft and The Tobey Furniture Company, Chicago, Illinois
Michael McCracken and Je McCracken – Oscar Onken and The Shop of the Crafters
Yoshiko Yamamoto – The Beautiful Necessity: Decorating with Arts & Crafts.
The 36th National Arts and Crafts Conference
&

Shows

February 17th – 19th, 2023 – The Omni Grove Park Inn
Asheville, North Carolina
A Slideshow of the National Arts and Crafts Conference and Shows
and walkthroughs of the Arts and Crafts shows
Never been to the Grove Park Inn?
The historic Grove Park Inn, now owned by Omni, is a perfect Arts & Crafts destination. Its interiors a tribute to the Arts and Crafts era of design, this Asheville historic hotel attracted the affluent and middle class of the early 20th Century with its reputation as a house of healing and comfort amidst the Blue Ridge Mountains. This tradition continues today as its one of a kind subterranean spa, its gorgeous sunset terrace views, and comforting natural interiors attracts visitors from all over, including many U.S. Presidents.
In the videos below, Bruce is your guide (along with our trusty cameraman Bill) as he walks through the 8th floor of the Vanderbilt Wing, presenting the 2022 Antiques and Contemporary Craftsfirms Shows.
A Tour of the National Arts and Crafts Shows at the Grove Park Inn
Meanwhile, please add yourself to our free weekly newsletter at www.ArtsAndCraftsCollector.com, for we also make major conference announcements there as well.
Many thanks!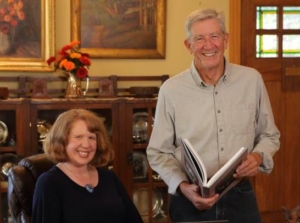 Bruce Johnson, Director Emeritus

Kate Nixon, Director of the National Arts and Crafts Conference at the Grove Park Inn and Arts & Crafts In August

Office phone: (828) 628-1915
The Office of the National Arts and Crafts Conference & Shows
Kate Nixon, National Arts & Crafts Conference Director
Bruce Johnson, Advisor & Director Emeritus
Flower Bridge Design LLC
Kate Nixon
by appointment only
Please email to set up an appointment
Asheville, NC 28803
Office number:
(828) 628-1915
Office hours:
Monday through Friday: 10am-5pm EASTERN