For as long as there have been pegged joints and matte green glazes, there have been educational seminars designed for Arts and Crafts collectors. Early Arts and Crafts societies in cities such as Boston, Chicago, and New York gathered to hear speakers reveal the evils of the Industrial Revolution and applaud the virtues of the simple life, one lived among handcrafted furnishings which William Morris described as those "you know to be useful and believe to be beautiful."
Following in that tradition, the National Arts and Crafts Conference was founded in 1988 as a three-day educational event for Arts and Crafts collectors. It was built on a foundation of seminars presented by researchers, authors, craftsmen, and scholars. Even though we will be unable to gather in February in the Heritage Ballroom at the Grove Park Inn, we will still be able to further our personal education as Arts and Crafts collectors by experiencing and enjoying education seminars during the entire month of February.
Each of our seminar presentations will be pre-recorded prior to February and loaded onto our site. After registering for the conference, you will have a password which will enable you, at your leisure, to access each of the seminar presentations during the month of February.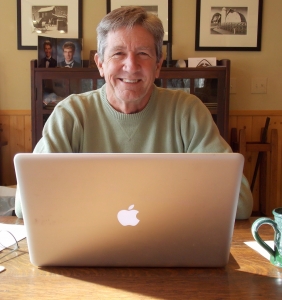 "Ruskin, Morris & More: Digging For Our English Roots" by Bruce E. Johnson
When I founded the National Arts and Crafts Conference at the Grove Park Inn in 1988, I had no idea that 33 years later we would still be going strong – or that such a thing as a virtual conference was even a remote possibility. I don't think I even had an email address until 1995. Along the way we transitioned from one slide projector to three 35mm projectors, and then evolved to something new called Power Point. Now we are using even more advanced technology to bring video presentations to you wherever you are and whenever you want.
It only made sense to open the 34th National Arts and Crafts Conference by providing you with some basic background information. Think of it as a Who's Who in the early decades of the Arts and Crafts movement, putting faces and deeds to names such as architect Augustus Pugin, author John Ruskin, and designer William Morris, along with Philip Webb, C.R. Ashbee, T.J. Cobden Sanderson, and C.F.A. Voysey. We'll also explore the roles played by Liberty & Company, the School of Handicraft, and the Century Guild, so I hope you will join us from the comfort of your living room.
"Sowing the Seeds: New England's Contribution to the Arts and Crafts Movement" by Marilee Meyer

Stemming from the region's early colonial and maritime past, the wealthier citizens in 19th-century Boston and other major cities in the Northeast had the opportunity to explore Europe and the world on grand tours. They returned with progressive ideas which they often disseminated through educational institutions and emerging Arts and Crafts societies. As an example, Boston's biggest contribution to the Arts and Crafts movement became its concentration of various educational institutions which introduced students and craftspersons to opportunities, ideas, and designs which they carried with them as they moved across the country in pursuit of their own individual expressions.
"Ruskin, the Roycroft, and the Photograph" by Peter Potter
Roycrofter-at-Large photographer Peter Potter will introduce John Ruskin: the photographer. Ruskin was an early adopter of the photographic process and his thoughts about the medium changed through time. Some of Ruskin's recently discovered lost daguerreotypes of Venice will be shared.
The Albright Art Gallery, in Buffalo, New York, hosted the first exhibit of fine art photography in the world in 1910 and an enigmatic polymath named Carl Sadakichi Hartmann was the nexus for this connection. His influence and his role on the Roycroft Campus will be explored, along with the work of local photographers in the Buffalo Photo Pictorial Movement.
Peter Potter is a Roycrofter-at-Large Master Artisan in photography. For over 50 years, he has used his camera and refined post exposure processing techniques to present his vision of local and regional scenes. He started working at the Roycroft Inn in 1976 as a dishwasher and is currently a docent on the Roycroft Campus.
"Midwest Practicality:  Working In the Shadow of Frank Lloyd Wright" by Bruce E. Johnson
Iowa's favorite son artist Grant Wood captured in his paintings and lithographs the essence of Midwestern people:  thrifty, hardworking, simple, and practical. I grew up on the Illinois prairie among those farmers and shopkeepers, and was fortunate to bring with me to North Carolina that Midwestern practicality that served them all so well.
In Chicago, a brash young Frank Lloyd Wright took to task his British counterparts who had condemned the Industrial Revolution's use of the machine. Instead, at the Hull House in 1901 Wright asserted that when put to its proper use, the machine could free laborers from tedious tasks, giving them the opportunity to apply their unique, creative skills to their work. His words resonated with Midwestern Arts and Crafts craftsmen and women, from William Gates at Teco Pottery and Clara Barck Welles at the Kalo Silver Shop to Albert Stickley in Grand Rapids and Charles Limbert in nearby Holland, Michigan, who applied that esteemed Midwest practicality to their design and production of Arts and Crafts works.
"The Arts and Crafts Movement in the Pacific Northwest" by Lawrence Kreisman
Driven by the need to simplify lives and surroundings during the fast-moving industrial and commercial growth at the turn of the 20th century, a design celebration of grace, simplicity and comfort was born in the Arts and Crafts movement. From the East Coast to the West, from homes to jewelry, this influence is found in objects both public and private. Local artisans in the Pacific Northwest contributed to this rich heritage making furniture, metalwork, ceramics, and stained glass to fill civic and commercial buildings, along with thousands of Bungalow, Craftsman, and Mission style residences throughout the Pacific Northwest.
Lawrence Kreisman co-founded and directed the Seattle Architecture Foundation tour program from 1990-2003. He served as Program Director of Historic Seattle for 20 years, developing tours, lectures, and special events, including a long-running Bungalow Fair and Arts and Crafts lecture series. He is the author of many articles and books on regional architecture and preservation. This lecture is based upon his 2007 publication, co-authored with Glenn Mason, for which they were recipients of the first research grant from the Arts & Crafts Research Fund. Their exhibition, organized by Seattle's Museum of History & Industry in 2009, traveled to Tacoma, Spokane, and Bellingham for two years.
Please join us as Lawrence Kreisman shares the rich history of the Arts and Crafts movement in Washington and Oregon.
Something Borrowed, Something New:  The West Coast's Contributions to the Arts and Crafts Movement
by Andre Chaves
Andre's first brush with Arts & Crafts was when he graduated from East Aurora High School, across the street from the Roycroft Campus. Andre became involved as a collector in the early 80s  and was lucky enough to have lived in the Duncan Irwin House, one of the most magical of the Greene brother's creations. Andre took an active roll in it by founding the Clinker Press to print books about and by individuals associated with the Movement.
Andre has been a long time attendee of the National Arts and Crafts Conference, a dealer in books about Arts and Crafts, a Small Group Discussion leader and has been fortunate to be invited to speak on three occasions. While Andre will be participating virtually, his heart remains with his community, however far.
The lecture will focus on what the West borrowed and what it contributed to the movement.  This will be based on key individuals and their accomplishments.
"From Mountain Crafts to Arts and Crafts: The Arts and Crafts Movement In the South" by Bruce E. Johnson
In 1979, I stumbled onto my first Arts and Crafts furniture in a basement in Iowa City, where after leaving a five-year career as a high school English teacher, I operated both an antique restoration business and an antiques mall. Back then, I naively assumed all Arts and Crafts came either from New York, Massachusetts, or Grand Rapids. Only after moving to North Carolina in 1986 did I begin to expand my preconceived idea of what constituted Arts and Crafts.
Here in Asheville I discovered that Southern Arts and Crafts consisted of more than Mississippi's George Ohr and the young women at Newcomb College in New Orleans. For the craftsmen and women living in the South, designing and handcrafting their own furniture, pottery, and quilts had been a way of life for decades. Transitioning into the popular Arts and Crafts style only required a few additional details and decorations, along with a means of marketing their works to the growing number of tourists and new homeowners who were arriving daily.