Arts and Crafts collectors love to read, and we love our books and our home libraries. While reading is a solitary endeavor, we also enjoy sharing with others our thoughts, opinions, and observations. For several years Pat Bartinique, English professor and author, has lead our popular in-person book discussions at the National Arts and Crafts Conference at the Grove Park Inn. This coming February, Pat will return to use her experience to lead our discussions. We hope you will take the opportunity to read any of this year's selections in advance of February, so that you can join the other registered participants in the lively discussions Pat will be leading.
Arts and Crafts Book Club Discussion
Friday, February 18th
4:30pm – 5:30pm
Led by Pat Bartinique
"Making Magic: The Marion Mahony Griffin Story"
"Making Magic: The Marion Mahony Griffin Story" is the first biography of Marion's life over three different continents. Her origins in America: a rising star in the world of architecture dominated by men and her work in Chicago with the prominent Frank Lloyd Wright and the Prairie School of Architecture and where she met her future husband, Walter Burley Griffin. Her design work for the Capital city of Canberra, Australia cemented her reputation as a master architect in her own right and an artist, environmentalist, social observer and community builder – skills that she would bring over to India with her husband in developing the Lucknow Library. Drawing on her diaries and historical records in libraries in Australia and America, and conversations with Griffin experts home owners and others with links to Marion's life, "Making Magic" tells the story of a most unusual woman.
Click here to purchase "Making Magic" from Turn of the Century Editions
Click here to purchase "Making Magic" from Barnes & Noble
Arts and Crafts Book & Movie Discussion
Saturday, February 19th
3:00pm – 4:00pm
Led by Pat Bartinique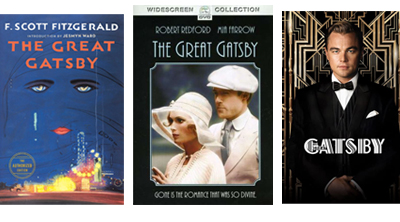 "The Three Gatsbys: Two Movies and a Book"
In this special book AND movie discussion, F. Scott Fitzgerald's classic is discussed in its original literary format and compared to two cinematic treatments of the novel. From the classic book (which you can purchase in your local bookstore OR read in digital format) to the movies that you can stream and watch online, we'll discuss it all plus talk about F. Scott Fitzgerald's time at the Grove Park Inn with Book Club discussion leader Pat Bartinique.