The 37th National Arts and Crafts Conference
&

Shows

February 16th – 18th, 2024 – The Omni Grove Park Inn
Asheville, North Carolina
A Slideshow of the National Arts and Crafts Conference and Shows
and walkthroughs of the Arts and Crafts shows
Never been to the Grove Park Inn?
The historic Grove Park Inn, now owned by Omni, is a perfect Arts & Crafts destination. Its interiors a tribute to the Arts and Crafts era of design, this Asheville historic hotel attracted the affluent and middle class of the early 20th Century with its reputation as a house of healing and comfort amidst the Blue Ridge Mountains. This tradition continues today as its one of a kind subterranean spa, its gorgeous sunset terrace views, and comforting natural interiors attracts visitors from all over, including many U.S. Presidents.
In the videos below, Bruce is your guide (along with our trusty cameraman Bill) as he walks through the 8th floor of the Vanderbilt Wing, presenting the 2022 Antiques and Contemporary Craftsfirms Shows.
A Tour of the National Arts and Crafts Shows at the Grove Park Inn
Meanwhile, please add yourself to our free weekly newsletter at www.ArtsAndCraftsCollector.com, for we also make major conference announcements there as well.
Many thanks!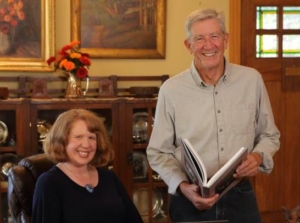 Bruce Johnson, Director Emeritus

Kate Nixon, Director of the National Arts and Crafts Conference at the Grove Park Inn and Arts & Crafts In August

Office phone: (828) 628-1915
The Office of the National Arts and Crafts Conference & Shows
Kate Nixon, National Arts & Crafts Conference Director
Bruce Johnson, Advisor & Director Emeritus
Flower Bridge Design LLC
Kate Nixon
by appointment only
Please email to set up an appointment
Asheville, NC 28803
Office number:
(828) 628-1915
Office hours:
Monday through Friday: 10am-5pm EASTERN